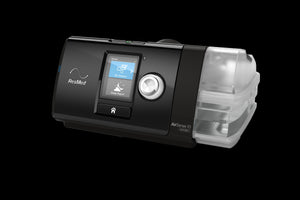 ResMed AirSense10 AutoSet Machine
Machine. No mask included (See Package Deals).
*Wireless data transmission capability. Compatibility with myAir, ResMed's online support program and App. 
The AirSense 10 AutoSet is a premium auto-adjusting therapy device.
It features AutoRamp™ with sleep onset detection, expiratory pressure relief (EPR™) and Easy-Breathe technology.
Consistent humidification throughout the night with the integrated HumidAir™ humidifier with advanced HumidAir technology helps patients adjust to treatment and use therapy longer. 
The AirSense 10 AutoSet provides advanced event detection, including indications of central sleep apnea and Cheyne-Stokes respiration. 
Modes include AutoSet and CPAP.
Extended warranty available.