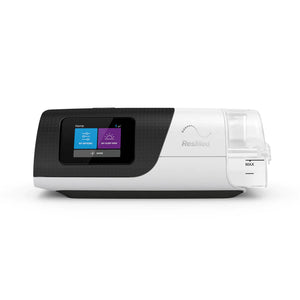 ResMed AirSense11 AutoSet Package Deal
Machine + Mask
*Wireless data transmission capability. Compatibility with myAir, ResMed's online support program and App. 
Introducing ResMed AirSense™ 11 AutoSet, the next generation CPAP machine that can auto-adjust air pressure based on your breathing requirements. To help make CPAP therapy easy and comfortable, it comes with three different therapy modes, automatic updates and an enhanced design to simplify set up.
Set up made simple. Exciting updates to the myAir™ app make set up easier than ever. Feel confident when starting your CPAP therapy with features such as the Personal Therapy Assistant, which offers voice-guided video instructions, and Test Drive, a tool designed to help you become more comfortable before you begin therapy.  
Features that all make sense. ResMed AirSense™ 11 AutoSet boasts intuitive controls, an easy-to-use touch screen and customisable settings to ensure effortless navigation and personalised therapy. 
Keep up to date with the latest technology. Receive automatic software updates with built-in cellular connectivity* to your device.  *Cellular connectivity depends on network availability.
Extended warranty available. 
Choice of mask:
* AirFit P10 Nasal Pillow
* AirFit P30i Nasal Pillow
* AirFit N30 Nasal Cradle Mask
* AirFit N20 Classic Nasal Mask
* AirFit N20 Nasal Mask
* AirFit N30i Nasal Mask
* AirFit F20 Full Face Mask
* AirTouch F20 Full Face Mask
* AirFit F30 Full Face Mask
* AirFit F30i Full Face Mask