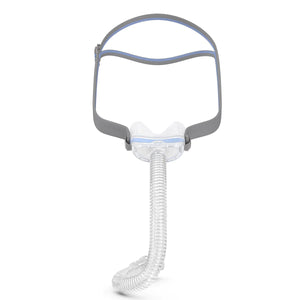 ResMed AirFit N30 Nasal Cradle Mask
A quieter mask to fit your sleep
One Size Fits All (Small, Small-Wide & Medium Cushions included)
The AirFit N30 is designed to be a low profile and silent mask suitable for side sleepers who are adjusting to CPAP therapy.
• Clear field of vision for bedtime reading
• Adjustable QuickFit™ elastic headgear with split strap design to make it easy to slip on and off and make minor adjustments if needed.
• Curved cushion cradles under your nose for a comfortable fit. Designed to prevent nostril soreness and red marks on the nasal bridge.
• QuietAirTMvent is designed to gently diffuse exhaled air to minimise noise and disturbance.
• Simple design has only three parts so it's easy to clean and reassemble.